POST COVID - Why smart leaders follow the data to operational excellence
Written by Jennifer Kelly, Director of StrategyBox consulting Ltd

In my earlier career, I was fortunate to have worked with a high-tech Global computer giant known at the time as Dell Computers. The experience and the process excellence of such a large supply chain were just second to none. Everything was managed through data and yes Dell had a great IT infrastructure, however, there were some areas of the business where we still used Excel extracts to analyze the data. There was a saying that the Global Supply Chain Vice President used to say to me over and over. "If you can't measure it. You can't manage it "and "Follow the data" Even the owner of Dell, looked for his weekly and end of quarter reports and always ensured that his customers and customer excellence were the top priority. To this day, I stand by the rule of if you cannot measure it, you cannot manage it as it is a very true statement, otherwise, how can you manage Customer delivery as well as providing the best operational performance for the business to succeed.
I often think, why do some companies find it hard to extract data from their systems and always believe that it is a hard thing to do. There are a lot of answers for example "We don't have a good IT infrastructure". "We don't have the people to sit and analyze the data", "We don't have enough resources in this day and age". When I moved into a company in my later career, that did not have a sound IT infrastructure, I started to form the same opinions. But I always remembered "if you can't measure it" You cannot manage it ". I began to understand, that all departments have data, even if it's sitting on their desktop. With a good data strategy, the process can be enhanced to bring this data together and make it useful to management.
Making decisions with data rather than mining data.
Managements time should be making decisions based on data and not mining through reams of excel sheets trying to figure out what is happening. With today's technology, there is a way to SIMPLY extract data and put it into Dashboard formats and save it to the cloud so all your management team can see the progress. By Business Unit, By Product, By Sales, By Project – whatever you wish to see.
A lot of business has been stalled and hurt by COVID-19 around the Globe. Managing teams has become "Virtual". In some cases, management does not have the visibility to see what is going on in operations or on their customer projects. People are working from home and in a lot of cases, performance can-not be visually seen.
Some businesses now must claw back margins that they have lost. Is management willing to do this in the dark? Or could they use the tools available to them to shed some light on the direction that they should be going in, which is by using the company data to see in the dark?
.
Putting data into practice
I worked on a project in a Fuel Energy business and data was a huge enabler to understand where management time needed to be spent. When the management team went through the data operational strategy, we formed the objectives and were able to focus on the data in a particular way. Management could clearly see where the Cashflow was coming from, the products that were yielding the highest margins, and where the "value" was for the client. This put our energy and focus on the right areas operationally and allowed us to solve areas that needed to be recovered. We used the data in a management meeting which we called a pulse meeting which was effective as management was able to drill through the data and recognize performance gaps. Solutions were then formed, so the gaps were quickly solved.
"25% to 5% in two weeks improvement on missed shipments"
In a current project that we are working on during COVID, the client had a problem around visibility within an old ERP system that their business was using. they could not see the material that was being shipped to their clients and had to check orders manually each time which was taking up a huge amount of time. In that project, missed shipments of customer orders have dropped from 25% to 5% in two weeks. They now have a visual report that refreshes in real-time which they can see across many devices.

Today's environment working remotely or offices across the globe.
In today's environment, as our teams are working remotely and the fact that you cannot just walk down to someone's desk to find out updates, tracking progress on projects, understanding if your Customer metrics are being met is crucial to keep track of on a more virtual level. In terms of people metrics, understanding information about how many employees, you have working from home on any given day or useful trends around the volume of absenteeism in the business could be useful to understand. In terms of financial metrics and key performance indicators in terms of leading and lagging metrics, the standard ones can be measured like Revenue, Profit, Margins, Cashflow, Work in Progress, Inventory cycle and inventory age, Customer Velocity and supply lead-times, supplier payment terms and schedules including aging work in progress, debtors, and creditors.
How your business could look!
Imagine, at the touch of a button, your business could have a report that flags up where you are versus your plan. It will highlight the "RED" areas and where those problems lie. You can then drill down further with the click of a button and understand the area, the operational issue, the project, the red flag. This is when your management team can take action to fix the problem and put a plan in place to solve it. This can all be hosted on the cloud, so the data is refreshed in real-time and all management has the same information at the same time. Top management can now drill into the detail if desired.
Some Data Dashboard Examples

1) The first example is how a manager could drill down into their quality metrics. It shows the Quality Yield and then drills down into performance by day and when you click on the day, it gives data about the issues. We can build in the action log from the meetings held, so everyone has the same update at the same time. This is more of an operational dashboard. This can be adapted to projects, HR, finance, and many other variations.
2) The second dashboard is another variation. http://strategybox.ie/visual-management Ultimately a dashboard can display, whatever is useful to the company and we can provide management with useful data that exists within the company processes, so they can clearly and visually see what's going on. Easy to understand information and in an easy way to interpret.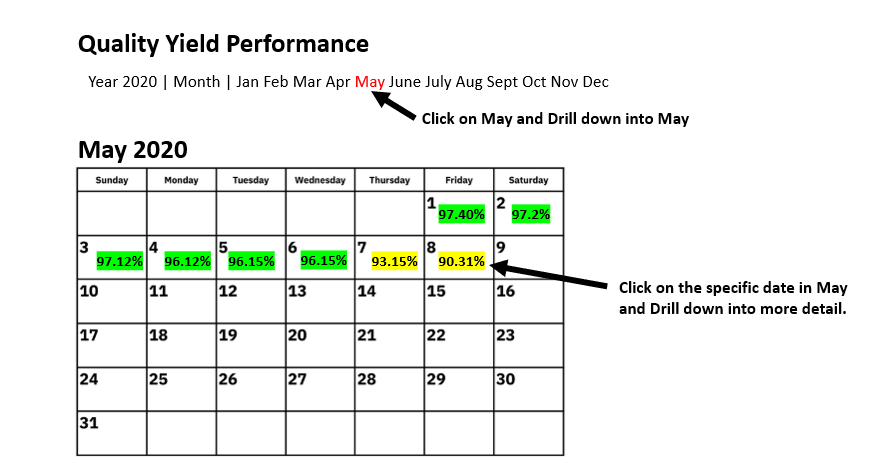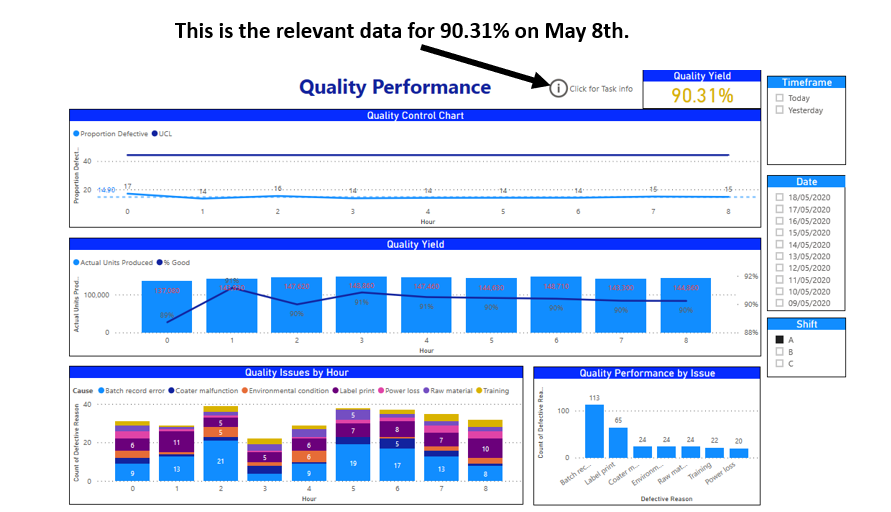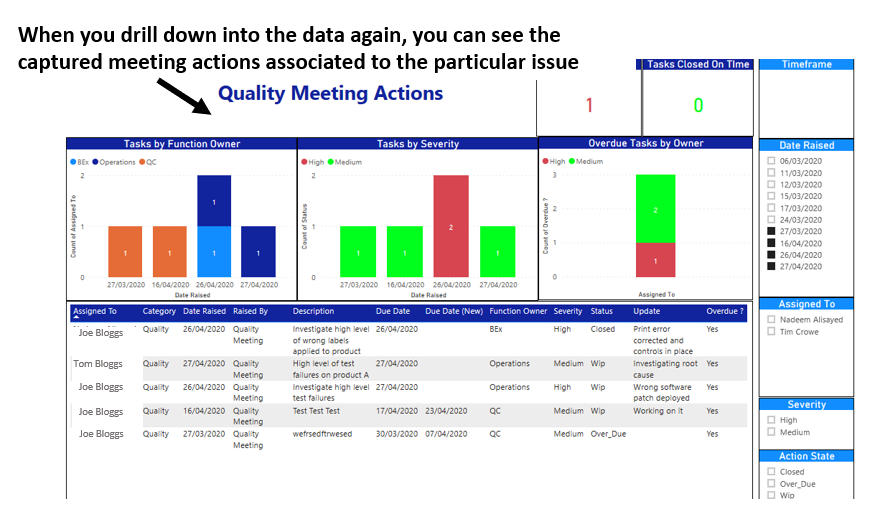 Business Recovery
If you need any assistance with data management and your data strategy. Contact us http://strategybox.ie/contact-us and we will send you on some solutions /information on how to manage data in your business. We have the expertise and the tools to help your business through these uncertain times. The best business leaders in the world have their fingers on the data as discussed at the start of this blog. Don't get stuck in the dark when trying to recover your business.